OUR TRACK & KARTING RULES
Please Note The Following: All forms of motor racing can be dangerous!
We provide Karting in as safe an environment as we possibly can. At The Zone, we love karting but we also love that our drivers are safe! We have rules in place for your safety and enjoyment but also for the safety of other drivers and our staff. Therefore, it is very important that you take note of the points listed below. Karting can be very enjoyable, but unless drivers obey the safety regulations, accidents can occur. Safe go-kart racing at THE ZONE is important and taken very seriously.
Before any racer is allowed on the track, they must have received a full safety briefing on karting protocol, flag signals and driving techniques. It is your responsibility to ensure that you understand and follow the rules of Karting and controls of the Karts.
The below rules apply to all drivers whether you arrive as a group or individually and you are expected to know and abide by the following rules: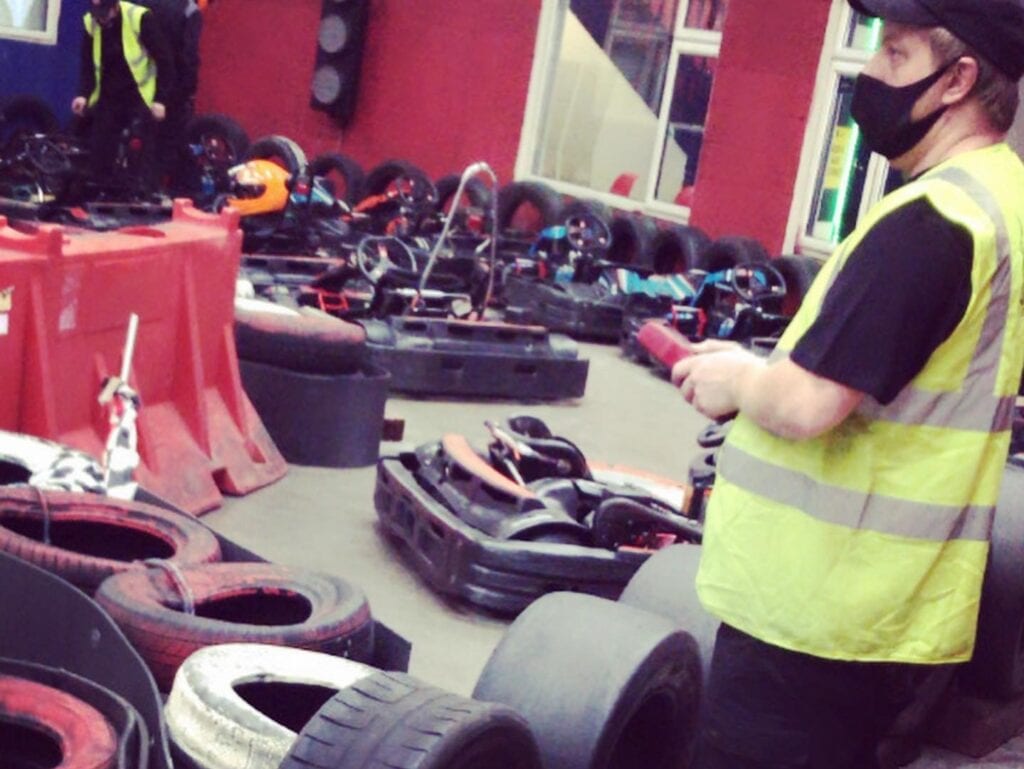 No Scarves, jewellery and loose clothing can be worn on the track.  Before racing make sure to take off or tuck in anything loose, which can catch in the kart and cause an accident.  This could be very dangerous so please be careful.
Anyone with long hair must tie it back securely and wear a hair net so it's not sticking out of the helmet, again this can catch on the kart and potentially be dangerous.
Everyone should wear appropriate footwear while racing, no open-toe shoes will be permitted, nor will high heels. We would recommend that ankles are also covered.
The Zone has a strict policy regarding alcohol and/or drug abuse. Any person who appears to be intoxicated or abusive will not be permitted to race and will not be entitled to a refund.
Any driver that fails to follow the track rules or are acting or driving aggressively, without regard to our rules or the safety of all drivers and our staff may be warned, penalized or asked to leave the track and will not be entitled to a refund.
If you do not use up all of your time or if you decide to finish your Karting session early, you are not entitled to a refund.
If you have arrived late for your pre booked Karting slot we will do our very best to accommodate you in another slot, but we cannot guarantee that you will get to race. It is very important that you arrive 20mins before your karting session.
All drivers MUST wear a properly fitting crash helmet.
Everyone has received a suit, gloves and a helmet.  Make sure to use them, look after them and return to them after the race has finished.
When on the track The Zone staff MUST be obeyed at all times.
Our Karts are fitted with a remote-control system which allows the staff to slow or stop karts should the need arise.
All drivers are required to know the flag signals, this is for the safety and enjoyment of all racers.
Should you receive a flag signal from a track marshal you are required to obey it, failure to comply may result in your removal from the race.
If you lose control and spin or go off track, remain in your kart and a track marshal will assist you promptly in getting back into the race.
Only drivers getting in and out of karts should be on the pit lane.  No spectators or parents are allowed. During racing everyone else please remain in the helmet area, briefing zone, balcony or reception.
If you have received a warning as in most sports the track manager / supervisors' decision is final, and he / she will make that decision based on their own report or with the assistance of other Marshalls on the track. Do not argue or verbally abuse our staff as this will not be tolerated in any means. No refund will be issued if you have been removed from the track.